Network and meet like-minded professionals who inspire your growth at local workshops, mixers, and signature galas.
Upcoming Events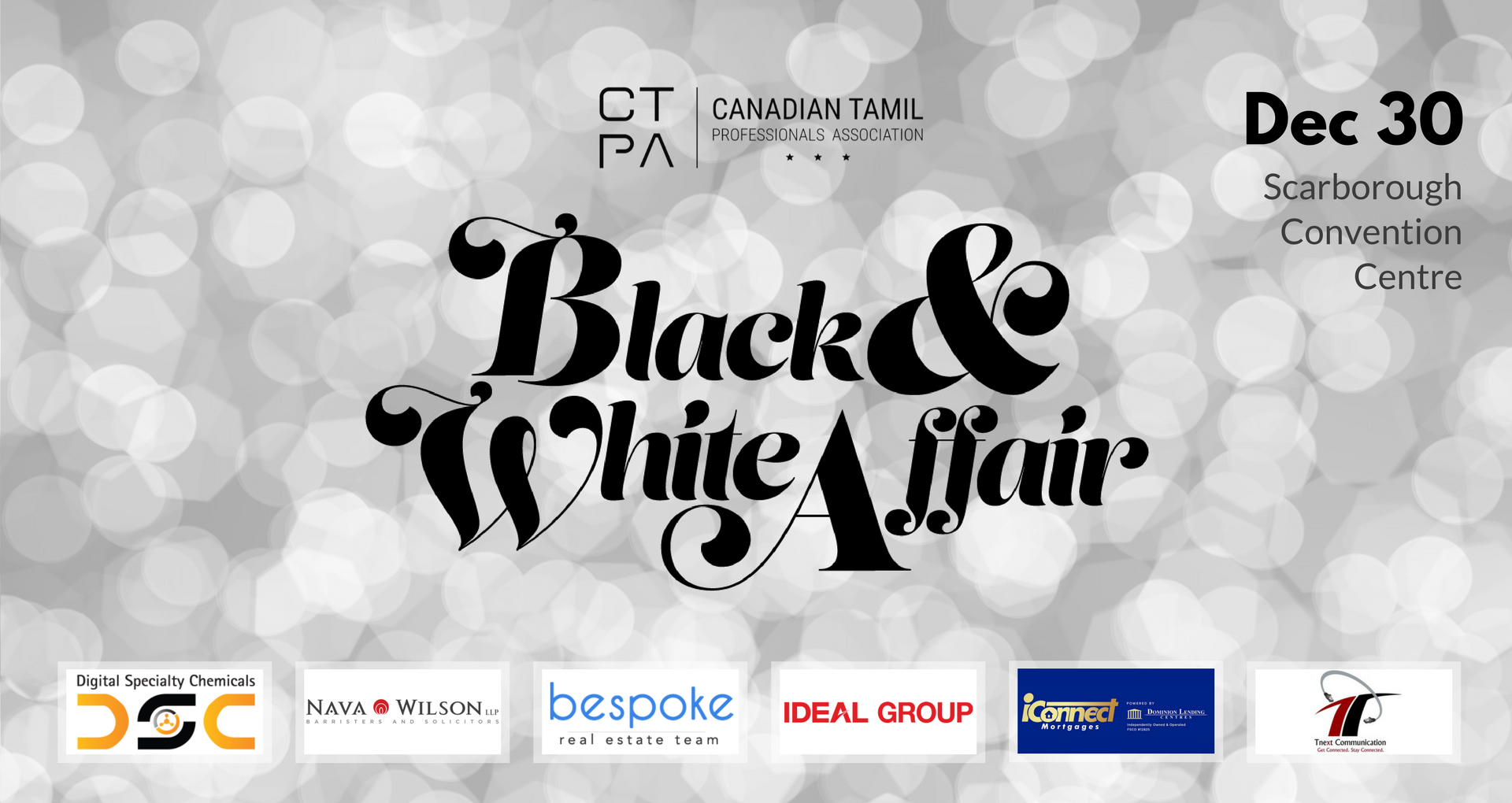 December 30th 2017
Black & White Affair 2017
Black & White Affair 2017
The Canadian Tamil Professionals Association (CTPA) is pleased to present its annual fundraising gala, the Black & White Affair! You will be in for an exciting evening of great entertainment, networking, dancing, cocktails and a lavish dinner buffet. All proceeds from this event will be used to fund and subsidize CTPA events and initiatives for 2018.
Register now
Supporting the Success & Empowerment of Tamil Professionals
Build & Learn
Build skills and knowledge with learning opportunities that propel your career forward at every stage, from entry to leadership. Discover top business trends, negotiation strategies, business etiquette and the craft of networking by attending our skill-building workshops and keeping your profile updated.
Upcoming Events
Network & Grow
Keep your network strong! Connect to an exclusive online community of dynamic, intelligent and accomplished professionals from varying backgrounds and industries to enhance your career success. We continue to shape the future of Tamil Professionals with innovative, forward-thinking programs that advance and support professionals at every stage in achieving their goals.
Learn about Membership
Leverage the Power of Mentorship
Paalam Mentorship is built on the foundational idea that through the sharing of knowledge, experience and ideas, mentors and mentees can mutually impact each other's careers and personal endeavours.
Apply to Paalam
Sponsors
Our annual sponsors make all our efforts possible.
---
We're making a difference. We help you stay focused on what you're trying to achieve, learn as much as you can, get inspired, build a network of support around yourself, and keep the goal in mind.
"Being part of CTPA has been a fun experience and one that has contributed to my personal development. CTPA provides plenty of opportunities to meet rising and accomplished individuals within our community. "
"I have been working in the pharmaceutical industry for two years and there has been plentiful opportunities for networking, professional skill development and meet other professionals in the same field to exchange experiences and knowledge. "
Indulge in our success tools and resources that contribute to your professional development.
Follow us for and keep updated with us on Instagram!