Through inspiring keynotes, innovative talks, educational breakouts, hands-on lessons, and tons of networking, you will learn how CTPA is at the heart of our professional community.
Education
With over 250 educational workshops and seminars, there's ample opportunity to learn at CTPA. Our speakers focus on delivering actionable tactics that you can put into practice as soon as you get back to the office.
Entertainment
As much as we love to work hard, we also love to have fun. End the year with our signature gala, Black and White Affair for a night full of networking, socializing and spectacular food and drinks.
Remarkable Content
Get inspired by top speakers, who in the past have included LinkedIn, The White House and Google to enrich the breadth and depth of your professional knowledge. Walk away with tools to do your job better and inspiration to do great things.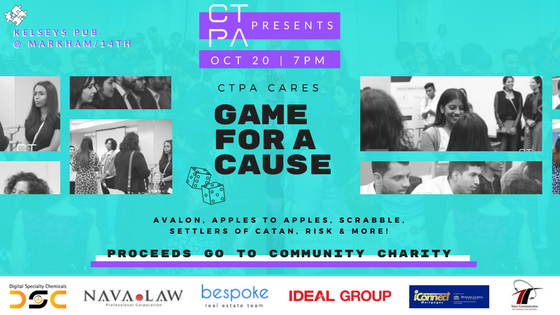 October 20th 2017
Game for a Cause: Board Game Night
Come out and socialize over some board game fun with your fellow Tamil Professionals! Top all the fun with a good cause because CTPA will be donating all proceeds to a community charity called INCOME.
Eat, drink, play, meet new people and be socially responsible!

Register for Event
November 4th 2017
FREE WORKSHOP
Attendees will learn about emotional intelligence, gain awareness of their own emotional intelligence and understand how relationships and communication impact effective their lives. The emotional intelligence workshop will be run by Juli Rasanayagam, M.A., R.P.(q), an Anger Management Expert. If you are not concerned with emotions, it will dramatically limit your ability to be successful personally and in your career. So, how can we be intelligent about emotions?
Register for Event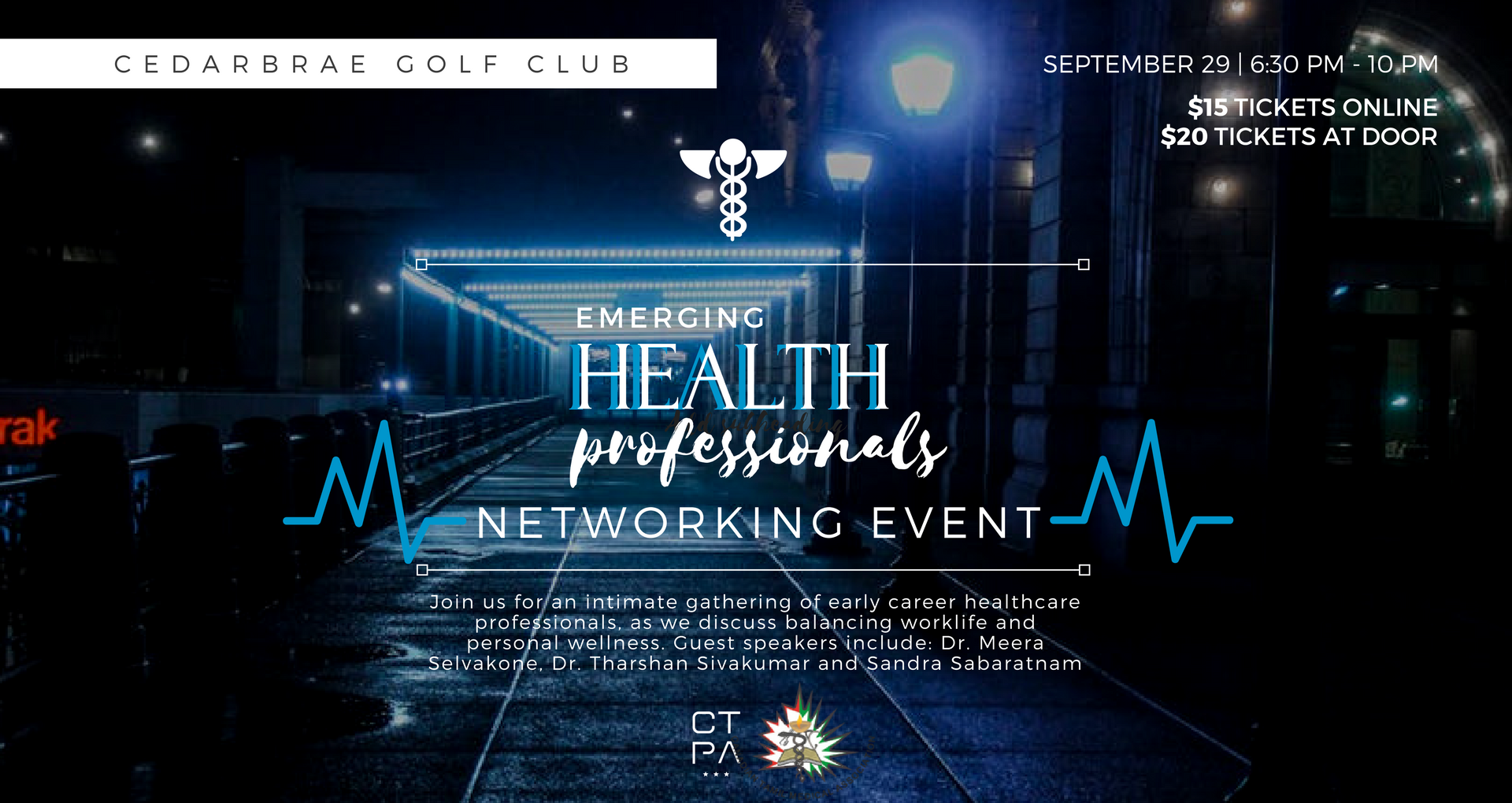 September 29th 2017
Emerging Health Professionals
Canadian Tamil Medical Association and Canadian Tamil Professional Association join forces to present to you: Emerging Health Professionals Networking Event
Join us for an intimate social gathering, as we discuss balancing work-life and personal wellness.
Guest speakers include Dr. Meera Selvakone, Dr. Tharshan Sivakumar and Sandra Sabaratnam. There will be opportunity for conversation and inspiration.

Recap coming soon!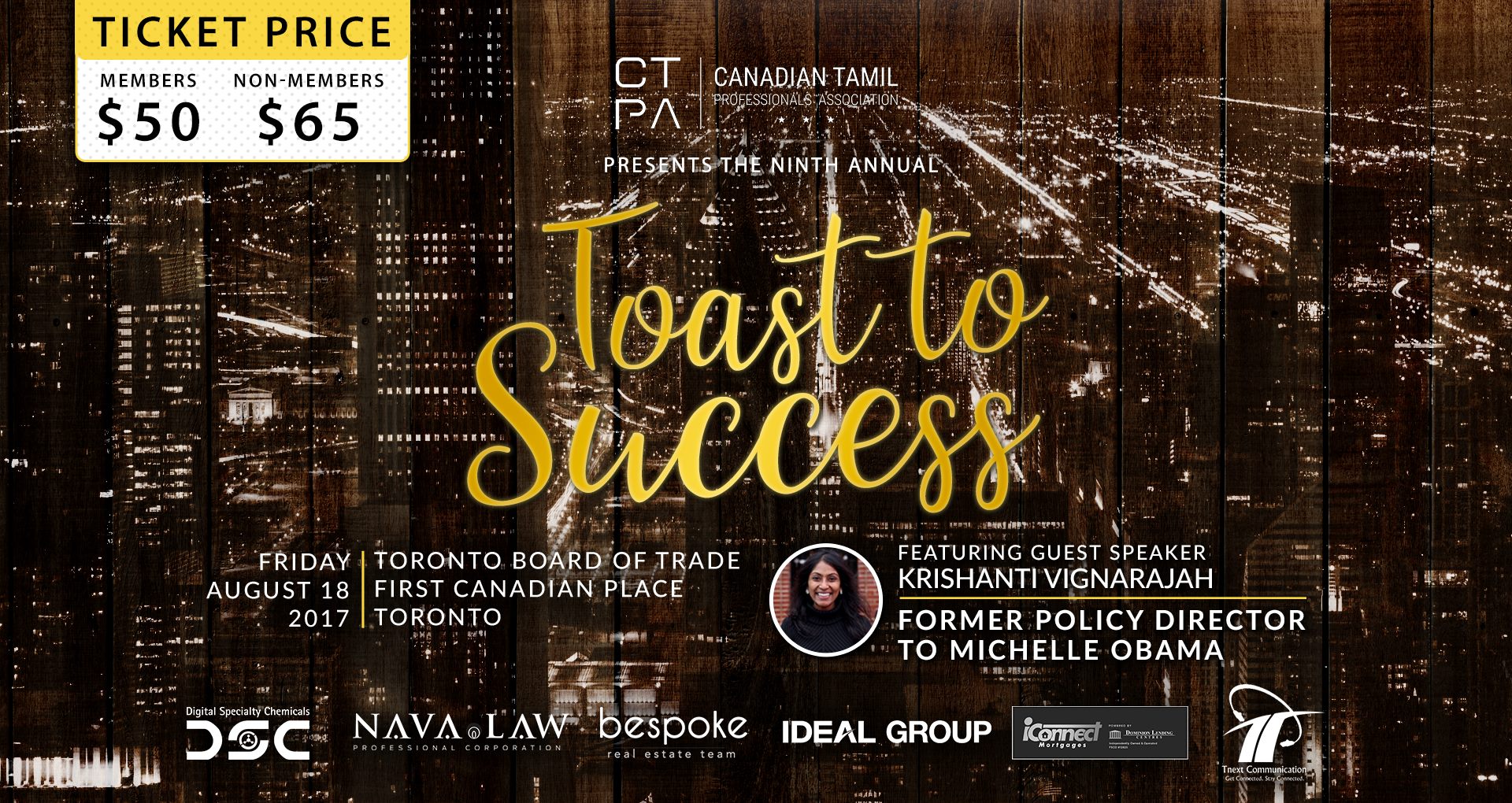 September 10th 2017
Meet 200+ Tamil Professionals
Toast to Success is CTPA's signature networking mixer, celebrating professional achievements in our community.


Join us on Friday August 18th, 2017 at the Toronto Board of Trade, First Canadian Place in downtown Toronto for a night filled with exciting networking opportunities, delicious hors d'oeuvres and more!

View Photos From The Event!
June 11, 2017
The Housing Equation
Learn about the various types of real estate investments, the economics, legal considerations and financing opportunities at The Housing Equation on June 11, 2017.
Watch Recap Video!
March 25, 2017
Money: How to save it, invest it & plan for the future
CTPA presents to you Money: How to Save It, Invest It and Plan for the Future. In this workshop you will learn how to: – use tools and techniques to plan your finances to meet your goals and obligations – approach savings and ways to keep your spending habits disciplined – diversify your investment portfolios by familiarizing yourself with various instruments such as stocks, mutual funds, real estate, etc. and understanding how to leverage them to meet your financial goals
Watch Recap Video!
August 5, 2016
Toast to Success 2016
"Succeeding in business is all about making connections" – Richard Branson Join CTPA on August 5th at our signature networking mixer, Toast to Success! This year we are proud to present Dave Howlett, the highly decorated speaker and author of #1 best seller "Connect Like a Real Human Being". With over 30 years of experience in sales, business development and leadership; Dave Howlett will share his 3-step secret to knocking down silos and making real human connections. Take a break from routine to enjoy an evening of delicious canapes catered by Oliver & Bonacini and gain invaluable insights for your personal and professional advancement! Then apply these lessons while networking with some of the movers and shakers within the Tamil community
View Photos from the Event
May 29, 2016
Paalam Launch
Paalam, CTPA's Mentorship Program, provides individuals at any stage of their career with the resources, guidance and training required for a meaningful mentoring experience. The workshop will include a seminar by Saeed Selvam, founder of Me Power (http://mepwr.com/). Saeed is a recognized leadership consultant, motivational speaker and former candidate for public office.
View Photos from the Event!
March 29, 2016
The Spring Connection
Vital at any age or stage in your career, good etiquette is a sign of professionalism and respect for others. It builds character, improves self-esteem and helps to create a positive environment. It can help you make a strong first impression, while building trust, establishing relationships and advancing in your career. Offering an interactive presentation with a real emphasis on acquiring modern skills, Lisa's focus is on practical, applicable etiquette skills that allow her clients to eat and greet with style and confidence wherever they are in the world.
January 31, 2016
Master the Art of Public Speaking
By mastering the art of public speaking, it can build your reputation, boost your self-confidence, opens opportunities and can make you more comfortable around other people. The Canadian Tamil Professionals Association (CTPA) is partnering with the Centre for Leadership and Innovation (CFLI) to bring you this workshop. CFLI is a non-profit aimed at promoting leadership skills, research and innovation. The experienced facilitators from CFLI's program Centre Stage will be teaching you techniques to help build your confidence when speaking to an audience.
View Photos from the Event!
November 7, 2015
Tamil Women at the Top
This is an intimate networking event to connect established female leaders. Attendees will find great value in conversing and networking with other successful and driven Tamil women in a meaningful setting. This is an intimate event designed to bring together a small group of powerful women and foster meaningful connections through the provoking topic about the rise of Tamil women in leadership. This is a forum for powerful thought leaders to share thoughts on how Tamil women can continue to overcome various obstacles in achieving their goals and dreams.
Read the Recap!
September 20, 2015
What's your EQ: EI for Success
The workshop will explore the correlation between emotional intelligence and optimal work performance. It will also focus on the application and practice of effective strategies for developing emotional intelligence. Participants will discover what emotional intelligence is and its significance as well as learn how to leverage emotional strengths that build effective market driven relationships. SPEAKER: Janice Medland Jan Medland is a performance coach and organizational effectiveness consultant.
Read the Recap!
June 13, 2015
Lasting Impressions on Social Media
CTPA's "Lasting Impression on Social Media" workshop will provide attendees with expert advise on creating a powerful social media presence. Leading social media strategist and principal consultant with Volterra Consulting, Andrew Jenkins, will discuss effective strategies in creating and expanding your network on LinkedIn. Anna Withrow, a marketing and communications consultant, will discuss the importance of building your personal brand and how to effectively build your network using Twitter.
View Photos from the Event!
March 26, 2015
CTPA's Professional Mixer by the Lake
Join us for an evening of networking and socializing amongst established and emerging professionals from various industries. The mixer will feature fun networking activities, delicious appetizers, and a wide selection of drinks at one of Toronto's most happening venues, The Amsterdam BrewHouse by the Lake. Let's also not forget all the great prizes you can take home.
View Photos from the Event!